Top 20 HR Blogs

Have you ever wanted expert advice on hiring processes, balancing your home and work lives, or how to get your dream job? Whether you're searching for information or just need to satisfy your HR fix, we can tell you where to look. We've scoured the internet for the best of the best, and these twenty HR blogs are the finest out there. Enjoy!
20. A Different Kind of Work – Making work fit life

Christine Livingston's work-life balance blog that aims to help you find your own way in the business world provides inspirational and insightful updates on how to improve your work-life balance, and the tools that can help you along the way.

19. Work + Life Fit Blog
Cali Yost also subscribes to the work-life balance philosophy, but with a greater emphasis on the work side. If you're looking for tips on how to manage your life at work, you'll find an abundance of tips here.

18. JobMob – All together now
Jacob Share writes with the goal of bringing together job seekers and jobfinders, and fills his blog with straight-talking advice that you can use in the real world, along with humor that you can appreciate in the blogosphere.

17. HRExaminer – In The Know and On The Go
HRExaminer is a collaborative blogging online magazine that focuses on the people, technology, ideas, and careers of senior leaders in human resources and human capital, bringing you valuable HR information on a regular basis.

16. Elephants at Work
Lynn Dessert provides consistently informative posts on topics ranging from career advice to leadership to workplace issues, as well as special sections for consultants and HR professionals. If you're looking to self-improve, this is the place to go.

15. Controlling Chaos
Frederic Casagrande blogs about project management and maintaining control, but will often foray into other business philosophies and ideas. If you're a project manager this is the place for you, but even if you're not you can still appreciate his take on things.

14. Andy Lester – Technology, careers, life and being happy
Andy Lester has a background in technology and often posts about programming challenges and adventures. However, for the less technical among you, he also regularly provides job search/career tips and generally entertaining thoughts on life.

13. Paula Caligiuni, Ph.D. – Dream. Explore. Prosper.
Paula Caligiuni shares counseling tips to help you find satisfaction and success in your career. She believes in being passionate about your work and provides advice in topics ranging from professional branding to getting enough sleep.

12. Monster Thinking – Exploring the complex world of work
A blog run by the job-listing site Monster, this blog talks career management and talent strategies and acquisition as well as news, trends, and global issues. The posts are well written, and with such great variety you're sure to find something for you.

11. SmashFly Recruitment Marketing Technology Blog – Recruitment Marketing, Talent Acquisition & Sourcing
SmashFly is written by a team of three bloggers and aims to be at the forefront of recruitment marketing thought by providing recruiters with the information to help them be more effective. If you're in recruitment, there's a lot this blog can teach you.

10. Alexandra Levit's Water Cooler Wisdom – Up-to-the-minute career advice from one who has survived the trenches.
Alexandra Levit provides consistently useful career advice ranging from managing multiple supervisors to working extended hours from home. Concise and to the point, this is a great place to go for general workplace advice.

9. TLNT – The Business of HR
TLNT covers news, insights and topical information from experts and thought leaders in HR, talent management, and all areas related to managing a workforce. With multiple updates a day, you're always guaranteed to learn something new.

8. China Gorman
China Gorman is an experienced HR guru, who posts a lot about human resources as well as general business advice and an occasional insight into her life. Her posts are thoughtful and unique, and cover a good range of work-related topics.

7. Cube Rules – Career Advice for Cubicle Warriors
Scot Herrick neglects upper management and other privileged workers with their own offices and focuses on the cubicle worker, providing valuable tips on how to land a job, succeed in a job, and build a successful career.

6. Penelope Trunk Blog – Advice at the intersection of work and life
Penelope Trunk is an experienced entrepreneur who gives career, life, and parenting advice/observations through each of her uniquely hilarious blog posts. Everything she writes is entertaining and insightful, and absolutely worth the read.

5. Sonar6
Sonar6 is a company blog that with a distinct personality. With posts with titles like "Can You MAKE People Like Banana Bread?" and "How Angry Birds Made Me a Better Manager," you can tell this blog is as entertaining as it is informational.

4. Fistful of Talent
Fistful of Talent is a well-known HR blog for good reason—it has great posts on nearly every subject related to human resources and the workplace, and no matter what information or advice you may be looking for, it always delivers.

3. The Cynical Girl – Career advice! Human resources! Cats! Of course!
Laurie Ruettimann has exactly the brand of humor that makes her blog posts enjoyable every time, no matter what she is writing about. And while you're busy laughing, you just might pick up on some of her advice too.

2. Blogging4Jobs
Blogging4Jobs is a collaborative blog that aims to provide resources for human resources, business leaders, recruiters, and job seekers. It is creative, well written, and has genuinely valuable content, updated at least once a day.

1. Stanley Bing
Stanley Bing is downright hilarious. His unique perspectives on life combined with his witty stories are sure to entertain. Sarcasm abounds, but every post is guaranteed to make you laugh at the frustrations of living in today's world.
Bonus: TheRedRecruiter
One of our favorite blogs at the office is TheRedRecruiter. From infographics to recruiting tips and tricks, RedRecruiter has a quirky personality that we love. Be sure to take a peak at their conference recaps, the team does an excellent job at filling you in on what you might have missed!
,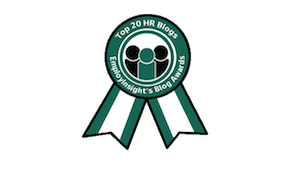 If you're one of our winners, you can put our badge on your page with this embed code:
---
Jennifer Titche is the community outreach specialist and is interested in the people part of business and human resources. She believes in making personal connections whenever possible, doing what you love, and never settling for anything but the best.
Photo Credit – flickr/Rosaura Ochoa
Comments